Novel
THE LOST LANGUAGE OF CRANES
KNOPF, 1986
Set in the 1980s against the backdrop of a swiftly gentrifying Manhattan, The Lost Language of Cranes tells the story of twenty-five-year-old Philip Benjamin, who realizes he must come out to his parents after falling in love for the first time with a man. Philip's parents are facing their own crisis: pressure from developers and the loss of their longtime home. But the real threat to the family is Philip's father's own struggle with his latent homosexuality, realized only in Sunday afternoon visits to gay porn theaters. Philip's admission to his parents leads his father to a point of crisis and provokes changes that forever alter the landscape of the family's lives.
The Lost Language of Cranes was originally published by Alfred A. Knopf and is now available from Bloomsbury.
In 1991 The Lost Language of Cranes was made into a BBC film directed by Nigel Finch and starring Brian Cox, Eileen Atkins, Corey Parker, and Angus McFadyen. In the United States, the film aired on PBS's "Great Performances" on June 24th, 1992.
BUY Amazon barnes & noble indiebound
ON The lost language of cranes
"Leavitt catches beautifully the terror and passion of new love."
—Dorothy Allison, The Village Voice
"There is a new spirit abroad in the writing of certain young American novelists. It is classical without being purist or nostalgic of lost forms of order; it has a democratic reverence for narrative, for communicating its messages clearly; it is romantic, unafraid of what George Eliot called the 'higher emotions,' and able to represent them without any glib addiction to satire or irony. In a time so flattened by the media, great faith in the restorative power of language is required to write in such a spirit…In the poise of its construction, the assured shamelessness of its themes, the purity of its prose, David Leavitt's brilliant, wise first novel, The Lost Language of Cranes, exemplifies this spirit. It would be hard to overpraise this book; it represents the most assured debut of a novelist in a long time."
—Andrew Harvey, Vogue
"Now this drama would seem to have all the earmarks of a comedy by the Roman playwright Plautus—disguise, coincidence and sexual misunderstanding. Add to the challenge that Mr. Leavitt has set for himself the complication that both father and son are homosexual. (Owen has for years been frequenting a gay pornographic movie theater; Philip has a boyfriend he would like to bring home to dinner.) What a miracle it is, then, that The Lost Language of Cranes is neither comic nor bizarre, but, as its title suggests, a multilayered work of sensibility, delicate on the surface yet packing the punch a reader may feel upon discovering that the title refers not to long-legged birds but to machines employed in lifting materials for building. How does Mr. Leavitt pull off such a tour de force? For one thing, as he demonstrated in his story collection, he is gifted at portraying the emotional interaction of family members, particularly the crises brought on when parents and children, by virtue of growing older, are forced to give up or even reverse their accustomed roles. For another thing, while Owen's secret guilt skillfully portrays the conflicts of an older generation, it is Philip's relations with various lovers that stand as the novel's norm. And these friendships are so relatively free of guilt and so focused on feelings bound to arise in any close relationship that a reader nearly forgets the issue of sexual identity and identifies with what is universal among any set of lovers."
—Christopher Lehmann-Haupt, The New York Times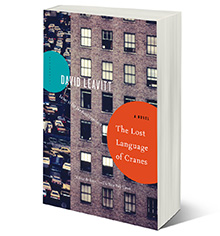 Foreign Editions
Globo (Brazil)
Melantrich (Czech Republic)
Denoel (France)
Rowohlt, Bruno Gmünder (Germany)
Aquarius (Greece)
Zmora Bitan (Israel)
Mondadori (Italy)
Kadokawa (Japan)
De Harmonie (The Netherlands)
Cappelans (Norway)
Prespo (Portugal)
Anagrama (Spain and Latin America)
Albert Bonniers (Sweden)
Penguin (United Kingdom and Commonwealth)
notes
Over the past few years the British artist Jaz Parkinson has been creating "color signatures" based on books. "Each time the text in a novel evokes a color in the mind," she explains, "it is tallied, and then put in a spectrum, graphed, and drawn. What results is a completely unique 'graph' of all the colors in said text, the look of which is a mystery until its completion. It is the human notion of converting texts into tangible color which is emphasized by these signatures."
Jaz Parkinson's color signature for
The Lost Language of Cranes
In the early 1980s, the Argentine painter Guillermo Kuitca created a series of paintings based on the floor plans of apartments. The inspiration for these paintings, Kuitca has said, was The Lost Language of Cranes and its evocation of the claustrophobia and intimacy of urban family life. Kuitca was born, as I was, in 1961. We met for the first time in Buenos Aires in 2011. Among other things, we discovered that we shared a fascination with maps (in particular subway maps) and architectural drawings, which play a significant role in his oeuvre.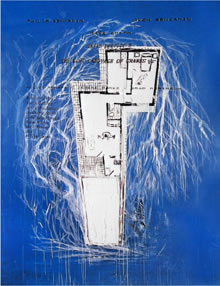 The Lost Language of Cranes, 1988
Mixed media on canvas, 190 X 160 cm
The Lost Language of Cranes, 1989
Mixed media on canvas, 200 X 150 cm